Presbyopia usually occurs beginning at around age 40, when people experience blurred near vision when reading, sewing or working at the computer.
When people develop presbyopia, they find they need to hold books, magazines, newspapers, menus and other reading materials at arm's length in order to focus properly. When they perform near work, such as embroidery or handwriting, they may develop headaches, eye strain or feel fatigued.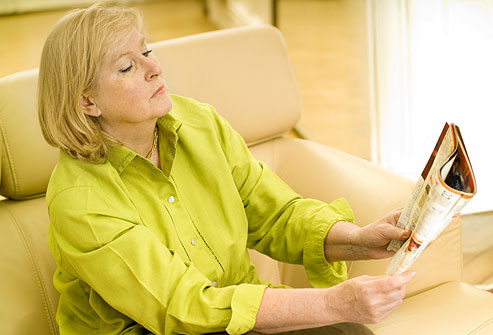 Presbyopia generally is believed to stem from a gradual thickening and loss of flexibility of the natural lens inside your eye.
Eyeglasses with bifocal or progressive addition lenses (PALs) are the most common correction for presbyopia. Bifocal means two points of focus: the main part of the spectacle lens contains a prescription for distance vision, while the lower portion of the lens holds the stronger near prescription for close work.
Progressive addition lenses are similar to bifocal lenses, but they offer a more gradual visual transition between the two prescriptions, with no visible line between them.
(Source: allaboutvision.com)