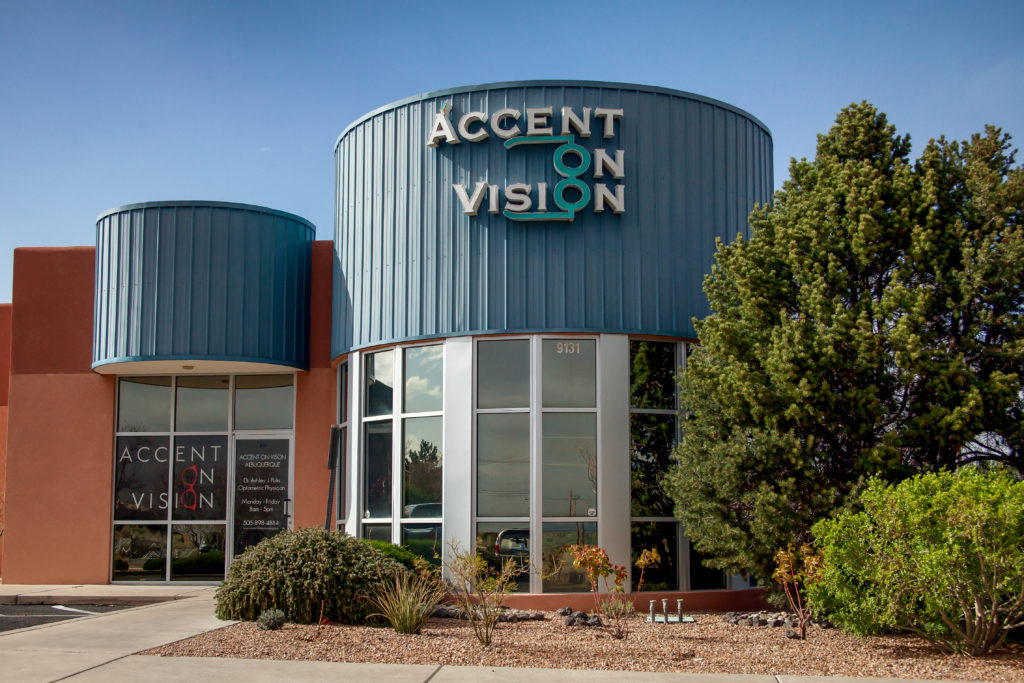 Accent on Vision Albuquerque
9131 High Assets Way NW
Albuquerque, NM 87120
View our location on Google Maps
Email: hello@aovabq.com
Phone: (505) 898–4884
Fax: (505) 898 – 8274
Office Hours:
Monday: 8:00 – 5:00
Tuesday: 8:00 – 5:00
Wednesday: 8:00 – 5:00
Thursday: 8:00 – 4:30
Friday: 8:00 – 5:00
Saturday and Sunday: Closed
Comprehensive Eye Exams
Contact Lenses
Boutique Eyewear
Specialty Contact Lenses
Emergency Medical Eye Care
LASIK Consultation
Diagnosis & Management of Eye Diseases
Accent on Vision strives to be your first choice for all of your eye health and vision needs. We are located in a state of the art facility in Albuquerque. Our doctors and staff deliver high-quality service with warmth and courtesy. Not only do we have the most up to date training, education, and equipment, but we attend continuing education seminars to ensure we remain at the top of our field. Delivering the best service means understanding and applying the latest research and technology. We keep learning so that we can continue to improve on the excellent service you count on us to provide.
Our expertise is only the beginning of what we offer. When you step into our office, we have your care and your comfort in mind. We greet you and work quickly to get you in for your appointment. Our warm, caring staff members and doctors are here to take care of your eyes, but in the process, we will take care of you.
Ultimately, you see us to improve your vision and maintain your eye health. We take a comprehensive approach to everything we do during your appointment. The doctor's examination can identify not only current issues but also potential problems that you may develop in the future. This can mean changes to the quality of your vision, your eye comfort, and in general the quality of life you experience. We do everything we can to ensure you get the most out of your eyes for as long as possible.
Getting your eyes checked likely does not top your list of favorite ways to spend your time. At Accent on Vision, we work hard to ensure you get the most out of your visit, and that you are comfortable in the process. We want to be your preferred eye care provider, and we work hard every day to earn that distinction. Contact us today to make an appointment!