Corneal Refractive Therapy
Corneal Refractive Therapy, or CRT, is a technologically advanced, non-surgical process, which reshapes the cornea while you sleep. You remove the lenses when you awake and are able to go throughout the day without any other correction.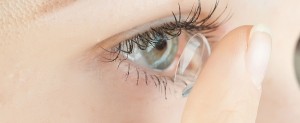 The result for you is great vision 24 hours a day!
CRT is not permanent. If you were to stop wearing the lenses your vision will return to its original state in as little as 72 hours.
Not everyone can wear CRT lenses. They are designed for individuals with low to moderate myopia (nearsightedness up to -6.00 diopters) with or without astigmatism (upt o -1.75 diopters). There are no age restrictions for CRT lenses, which makes it a great option for everyone in the family. Since there are variations in patient needs, however, the decision for CRT can only be made after a thorough eye examination.